Modus Difference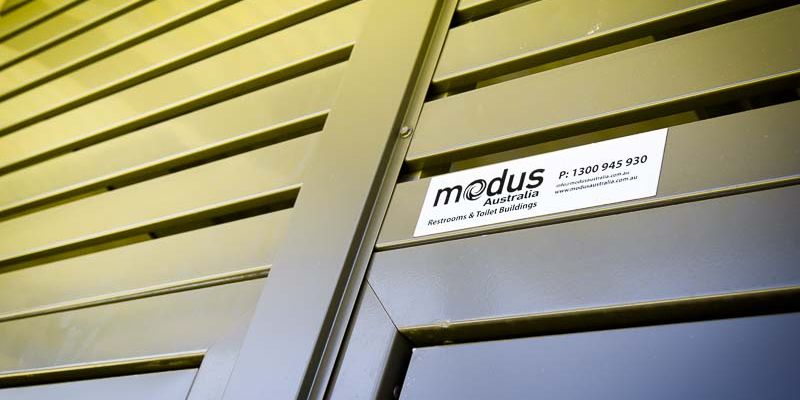 Modus Australia is a national supplier of cost effective public restroom and toilet facilities, offering a range of design styles which integrate successfully to their surroundings. Our unique modular panel system is easily scalable to accommodate the required user capacity to suit your application.
Modus Made Public Toilet Buildings
ROBUST
Built for anywhere, built to last.
Constructed from heavy RHS steel sections and hot dip galvanised after fabrication ensures the steel framing boasts strength and superior protection against corrosion. The panels are clad with a range of durable materials including Colorbond, aluminium extrusions and aluminium composites, providing a variety of colour options and easily maintainable surfaces. Vandalism is combatted through carefully chosen materials and hard wearing finishes. Solid core metal clad doors, robust hardware and internal fixtures make our buildings the choice for heavy use public environments.
Modus buildings also offer:
COASTAL SPECIFICATION
Understanding the harsh coastal environments, we offer a range of highly corrosive-resistant surface finishes and materials for locations that are subject to corrosive elements. Two pack epoxy treatment, Ultra Colorbond finish and stainless steel components are essential for these applications.
CYCLONE STRONG
Engineered for the worst, Modus Buildings have been proven throughout some of Australia's severest cyclonic regions. We provide engineering certification as part of the technical documentation.
FLOOD ZONE COMPATIBLE
Modus amenities are structurally suitable to be submersed in flood waters and have been supplied to a number of flood prone areas.
SNOW LOAD COMPATIBLE
Roof structures can be designed to accommodate for seasonal accumulation and peak loadings in snow prone areas. Contact our Engineering department regarding your regional requirements.
NO TIMBER, NO TERMITES
Whilst termites can bore through timber framework, they do not have an appetite for steel and aluminium structures!
COST EFFECTIVE
Saving you money now and later.
Our buildings offer a lower cost initial outlay than standard brick and tile construction. Modus Australia's buildings are approximately 50% of the overall cost when compared with brick and tile buildings, and 25% of the cost of a similar sized automated toilet. They are not only cheaper but they minimise delay and disruption through a significantly reduced construction time.
EASY TO CLEAN
Lower maintenance to slash ongoing costs.
Modus buildings are designed for efficiency of use, particularly considering for the maintenance required to keep the building clean and sanitary for the patrons. We understand the costs involved, and have selected materials based on their serviceability and ease of maintenance. Our wall panels are raised 30mm off the ground to allow easy wash-through cleaning and to continuously provide natural ventilation through the building, keeping it fresh and hygienic.
SIMPLE TO INSTALL
Ease of installation means no stress.
Wall panels are supplied pre-clad upon arrival to site, and all materials are supplied in flat pack kit form meaning assembly is fast and efficient. All technical details are provided prior to allow site preparation, making the installation of our buildings a stress-free experience. Modus Australia takes all the work offsite so that a functional public toilet building is up and running within days of being delivered. This results in a cost effective solution when compared to the processes necessary to construct a conventional brick and tile building.
ADAPTABLE
Configure our buildings to suit your specific needs.
Modus Australia provides a toilet building solution that can be adapted to service a variety of uses.  From a single toilet to a large amenity building, the layout can be adapted to include: showers, laundries, change rooms, shade areas, store/service rooms, in addition to disabled, ambulant, unisex and single sex public restroom facilities.
Modus Difference enquiries
Ph. 1300 945 930
Email. info@modusaustralia.com.au
---