What is Crime Prevention Through Envirnmental Design (CPTED)?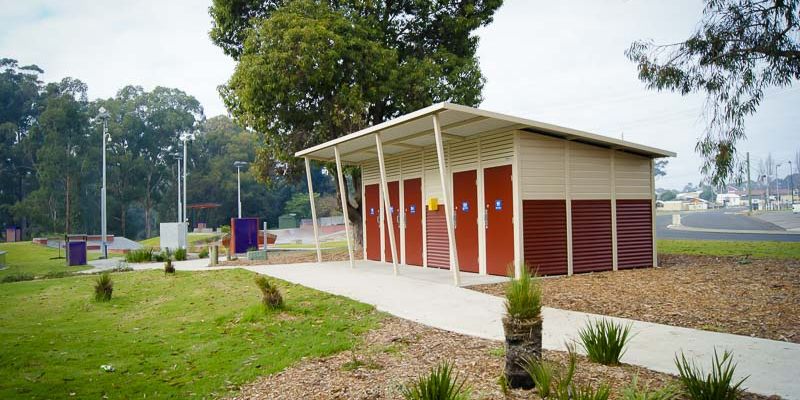 CPTED is an integral element of the design process, to holistically account for the best environmental, physical and cultural influences in order to manage the risk of criminal activity, thus keeping the public safer.
Tactical Solutions for Public Restroom Projects
Crime Prevention through Environmental Design (CPTED) is a set of crime prevention guidelines focused on planning, design and structure of urban precincts and neighbourhoods. CPTED guidelines centre on minimising opportunistic crimes by applying design and management principles as early as possible in the design phase. The strategies primarily aid a project's architects, town planners, policy-makers and general public with practical advice on crime prevention.
Public restroom Crime Prevention through Environmental Design strikes a balance between security and practical factors to adequately deliver an amenity solution throughout peak periods of demand.  The core challenges of a project provide the basis to holistically develop a design scope that will best meet key location, cultural and criminal concerns.
Better community safety with a clear vision
Significant improved long-term efficiency of a public restroom project is achieved by considering five CPTED principles: physical security, surveillance, movement control, management and maintenance, and defensive space.
Physical Security: methods for specific design specification, continual maintenance and scheduled presence to deter unacceptable behaviour.
Surveillance: appropriate clearing of bush and area surrounding the toilet building. Orientation of the building to ensure front faces toward high traffic areas so each cubicle can be monitored by surrounding public areas such as paths, playgrounds, BBQ areas and sports fields. Ensure building is illuminated and solid walls screening clear sight are avoided.
Movement control: restricting clear access to areas, securing all storage areas such as a service area and/or limiting access to each cubicle via a single front facing door. Limiting pathways to the front of the building and garden beds around the side and rear makes it easier to detect suspicious behaviour and deters criminals.
Management and maintenance: management processes that are undertaken regularly ensure the place is cared for and provide a facility that is free from signs of disorder.
Defensible Space: a clear defined ownership of the space such as public path or access restricted national park walking trails.
Further CPTED recommendations
Three further recommendations for the physical environment can influence a reduction the opportune crime include:
Natural – basic behavioural security to observe the buildings use (i.e. a 30mm ground level clearance of walls provides the ability to see if something is the other side)
Organised – human security to patrol the space frequently
Mechanical – including hardware solutions (i.e. time set door locks, solar powered lighting and solid core doors)
---