Testimonials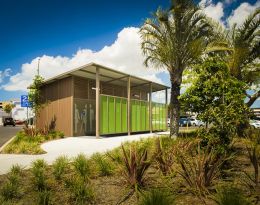 Highest level 'Changing Places' accreditation achieved
"Modus worked with Ballina Council to modify the "Yarra" custom design to facilitate the provision of 'Changing Places' fixtures and fittings. Changing Places is an initiative to promote accessible toilets with change tables and hoists for people with severe disabilities. The additional spatial and design requirements to achieve the accreditation required collaboration between Modus and Ballina Council. Modus should be congratulated for their attention to detail. Ballina Council subsequently received a Highly Commended award from the IPWEA for the Design and Construction of a Local Government Public Works Project. As a result of the successful delivery and execution of this project and achieving the highest level of 'Changing Places' accreditation I would not hesitate in recommending Modus for future projects."
Jamie Fleeting, Construction Engineer and Project Manager
Ballina Shire Council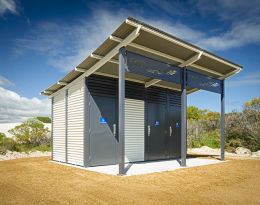 Custom building design for coastal campsites
"Modus have been extremely accommodating during the entire project. They assisted us in designing our own custom design suitable for extreme coastal conditions. The shelter ended up looking amazing and we receive several comments from the public. The toilets are modern and contemporary and Modus worked with us to incorporate artwork into the building rather than having to get a separate piece made. Being competitively priced, easy to work with, accommodating, a functional great quality product, low maintenance and modern design I would be happy to recommend Modus Australia."
Nicole Nelson, Manager of Tourism
Shire of Irwin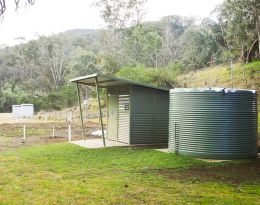 Yarra 1 public toilet building for Stewarts Brook State Forest
"Due to the remote location of Stewarts Brook State Forest it was important to have everything supplied together to complete the construction of the Yarra 1 public toilet building. The walls were pre-cladded and the doors were fitted to the frames even the chemical anchors were supplied. All we had to do was form and pour the slab which included installing sewer connections. Once the kit arrived we brought along our tools to complete the construction. The building was a breeze to erect and I would not hesitate to recommend Modus Australia's buildings in the future."
Dennis Wadbull
Upper Hunter Shire Council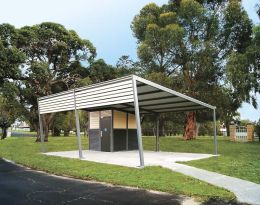 Atlantis 1 Shelter Toilet Building for Bunbury Cemetery
"From day one Modus Australia were very helpful. Their personalised service is complimented by their wide range of building designs and layouts to suit a range of needs. We were assisted by the team with the selection of the Atlantis 1 Shelter Building as it offered a shaded area as well as public restroom facilities. Strategically placed near our two front entrances, the Atlantis-1 is very well suited to the cemetery grounds and the public's personal needs together with protection from the elements."
Anne Dixon,
Bunbury Cemetery Board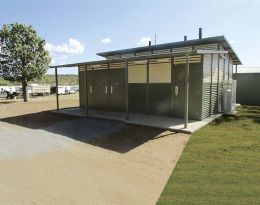 Mixed use public amenity for Central Highlands Regional Council
"We required a mixed use public amenity and toilet building solution to service a number of showgrounds. Modus Australia provided us with the ability to adapt the services and layout to fit each of the showgrounds requirements, which included disabled, ambulant and unisex toilets, showers, storeroom and service areas. Each of the buildings were supplied in kit form ready for installation with all internal fixtures. I valued attention to detail and support offered by the Modus Australia sales and technical team and would not hesitate to use them again on upcoming projects."
Mark Chalk, Asset and Maintenance Officer
Central Highlands Regional Council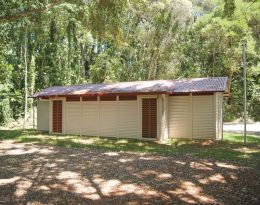 Kuranda Amphitheatre Burton 10 Custom Standard Toilet Building
The Modus Australia's prefabricated panel system was great to work with. The Burton 10 Custom building arrived on site in a flat packed kit form and supported by accurate well documented engineering and technical drawings, which I found were a breeze to follow. To complete the build we worked through each stage of construction including: wall panels, dividing walls, roof and finally trims. The complete build and completion of cubicles were erected in 5 days using 2 only tradespeople. Our client was very satisfied with the time to complete the build time and the presentation of the building. Myself and our personnel involved in the build would be happy to assist Modus Australia and their client with future projects."
Stephen Wilson, Principal
SJ Wilson Builders