Changing Places Facilities, transforming Australian Lives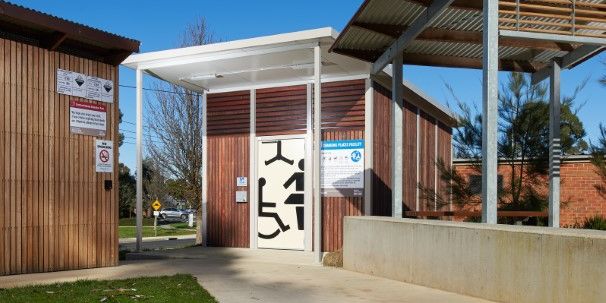 Changing Places provide a secure facility with 24 hour access, additional floor space and necessary equipment to assist people living with a severe disability. Additional floor space allows enough room for two carers to assist the user with their needs.
About Changing Places
It is important to know that Changing Places are different to standard AS1428.1 universal access toilets. These facilities include an adult-size change table, toilet, ceiling hoist, and adequate room for two people to assist, and in some cases a shower also. They are a much needed addition to all public locations such as shopping centres, sporting complexes, entertainment venues, along transit routes, beaches, town centres and parks.
The impact of Changing Places
It is estimated that there are approximately 1.3 million Australians have a profound or severe core limitation and may require some or all the equipment in a Changing Places toilet. Lack of appropriate facilities are a major barrier limiting families and individuals to the places they can visit and how long they can spend away from their home. These facilities help improve social inclusion for those living with severe and profound disabilities, through giving them increased access to social and cultural events, and civic, political and economic opportunities. Changing Places are a welcome advancement for carers and family members of those with severe disabilities, enhancing the carer's physical wellbeing by removing the need to lift the person with a disability, and reducing the stress of planning excursions around bathroom needs.
Changing Places in Australia
Changing Places concept was first introduced in the UK in 2006, with there now being over 550 of such facilities across the country. The Australian program started in 2012 with the formation of a consortium in Victoria which is now lead by the Association for Children with a Disability (ACD) providing direction and technical support. The Changing Places Information Guide comprehensively outlines the requirements to meet accreditation for these facilities.
The Changing Places 'find a toilet' provides an interactive map to assist locating where public facilities are located in Australia.
Modus Changing Places buildings
A proud sponsor and supporter of the Changing Places initiative, Modus offers two 'off-the-shelf' pre-designed, engineered and Blue certified designs - delivered in our unique prefabricated modular kit form construction style. As a result of our extensive experience constructing toilet amenity buildings for the public realm, every detail has been considered in the construction to ensure compliance, safety, usability and longevity.
---