Amenity shelter building for Queensland's public amenities project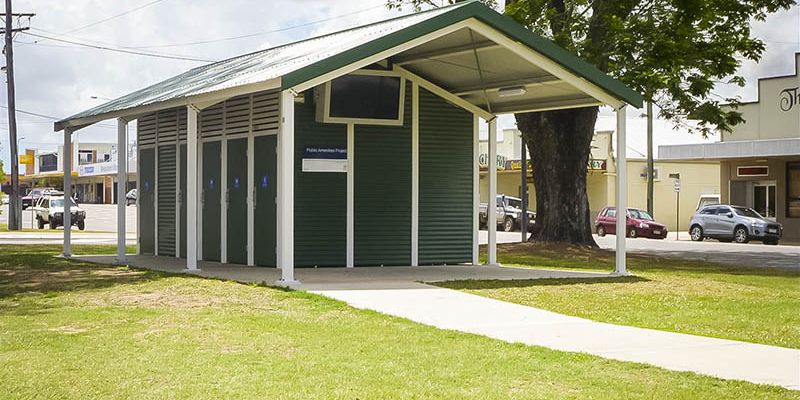 Back to Projects
Modus Australia manufactured and supplied Hinchinbrook Shire Council with an Olympus 5 Amenity Shelter Building.
Amenity shelter building with digital public noticeboard for Hinchinbrook public amenities project
Hinchinbrook Shire Council and Queensland State Government public amenities project added an Olympus 5 Shelter Toilet Building to the town centre at Ingham in Queensland. The cyclone rated structure was delivered by Modus Australia in a prefabricated kit-form package that included every element to complete the toilet building construction.
Public amenity building with digital noticeboard
The public amenity project integrated a digital noticeboard to provide information about local events, campsites, tourist information and weather warnings such as cyclonic information.The toilet building design allowed Hinchinbrook Shire Council with a shelter area to utilise an interactive information resource for local residence and tourists.
Custom amenity building layout provides a complete solution at Ingham QLD
Modus Australia's adaptable modular amenity building layout allowed for a service area with hidden cisterns to be added to the following:
AS1428 Compliant Restroom with disabled access

Ambulant cubicle compliant with Australian building code

Two unisex cubicles

Male cubicle

Shelter area

Cyclonic rated building structure
The Olympus 5 Shelter Amenity building provided a custom toilet building layout design using Modus Australia's standard modular prefabricated panel system. This resulted in reduced onsite waste and minimised construction time thus benefiting the environment as project budget and delivery timeframe.
---