Hadfield Park Wallan | Changing Places Building 2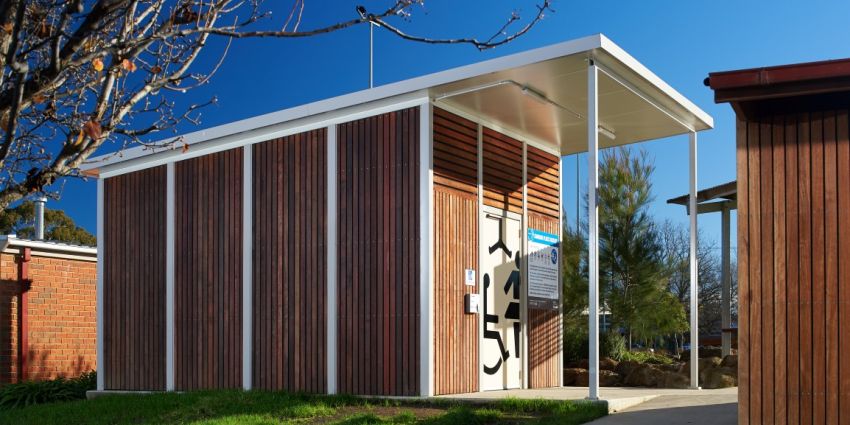 Back to Projects
Located in the Mitchell Shire Victoria, Hadfield Park is an inclusive multipurpose open space with BMX tracks, walking trails, playground, splash park, BBQ's, toilets and now; a Changing Places toilet building. The park is wheelchair accessible throughout, with an accessible seat on the flying fox, interactive tractor play, parking facilities and much more.
HOW WE HELPED
We assisted the Mitchell Shire in selecting a Changing Place building, offering a complete prefabricated kit form building package with all supporting concrete and services documentation. The building is a secure and private amenity for people with a disability who need more than is offered by a universal accessible toilet, and additional assistance to use a bathroom when out and about in the community. Using our proprietary pre-fabricated modular panel system, this building was finished in premium Blackbutt timber battens to fit in with nearby infrastructure and compliment the open space.
Our pre-designed, engineered and access compliant buildings ensure a hassle-free project from forward budgeting to cutting the ribbon.
Read the article on the Mitchell Shire website here.
THE MODUS SOLUTION
Changing Places 2 Building including:
Constant Charge Ceiling Hoist H track system with full room coverage, operated by an electric hand controller
Wall Mounted Adult Sized Change Table with adjustable height operated by electric hand controller
Accessible WC with back rest
Folding Grab Rails Stainless Steel, on left and right of toilet
Fixed Grab Rails Stainless Steel
Wall Mounted Wash Basin with mixer tap and integrated shelf
Dyson Hand Dryer Air blade
Automatic Door operated MLAK key or optional swipe card activation
Wall Mounted Privacy Screen in front of toilet
Sanitary Wipe Dispenser near change table
High Efficiency LED Lights
125 Litre Electric Hot Water System
Lockable Distribution Box
Soap Dispenser
Stainless Steel Shelf
Tempered Glass Mirror
Sharps Container
HAVE A PROJECT TO DO?
We make it easy for you to deliver robust, functional and aesthetic toilet amenities for your community. To save time, budget and stress on delivering the public toilet infrastructure, get in touch with us.
Call. 1300 945 930
Email. info@modusaustralia.com.au
---