Bibra Lake Skate Park | Yarra 3 Custom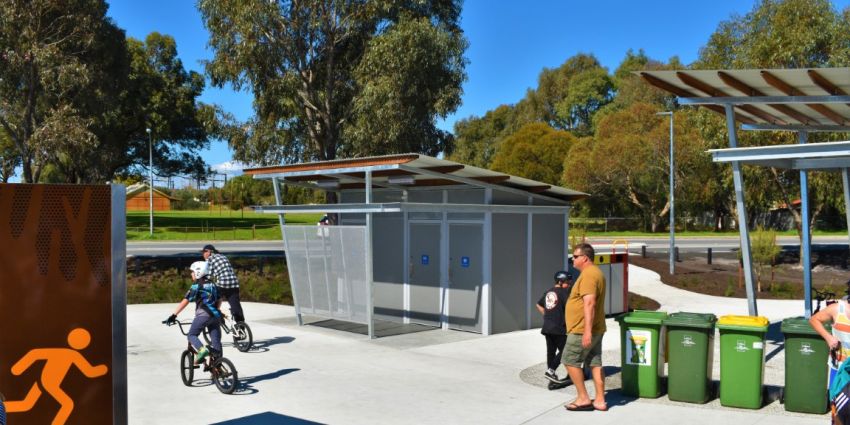 Back to Projects
Started from a petition by four local kids, the Bibra Lake Skate Park is now an impressive multi-use open space catering for more than skaters; including a half basketball court, playground, barbecue amenities, shelters and a new custom toilet building. The toilet building provides convenience so park visitors can enjoy the place for an extended stay, and has enough capacity to handle events and competitions.
HOW WE HELPED
We worked with the City of Cockburn to develop a toilet building that complimented the park theme and echoed the adjacent shelter design. Being located at a skate park, vandal resistance was a key consideration in the choice of toilet building - something that is built into all of our standard designs. Modus incorporated design customisations to match the project theme and was engaged to manufacture and install the building.
---
THE MODUS SOLUTION
Yarra 3 Toilet Building including:
2 x Universal Access Toilet Cubicle
1 x Standard Toilet Cubicle 
Porcelain Toilet Pans and Cisterns
Folding Baby Change Table
Stainless Steel Handrails in disabled cubicles
Custom roof and facade to match adjacent shelter design
---
HAVE A PROJECT TO DO?
We make it easy for you to deliver robust, functional and aesthetic toilet amenities for your community. To save time, budget and stress on delivering the public toilet infrastructure, get in touch with us.
Call. 1300 945 930
Email. info@modusaustralia.com.au
---