Melville | Yarra 1 Custom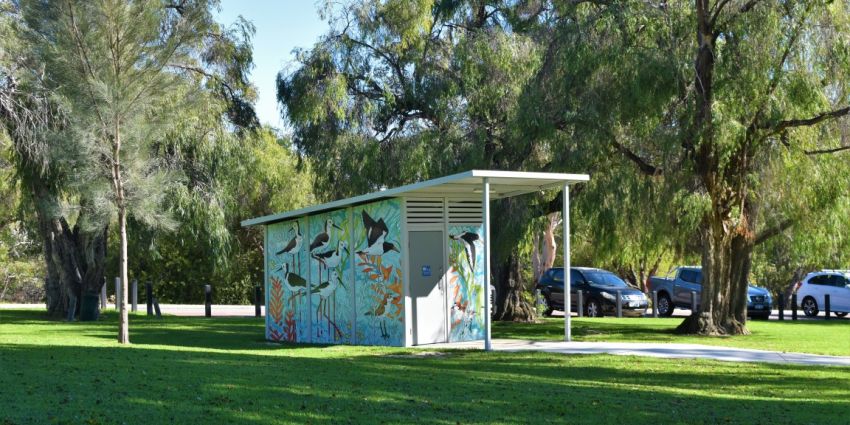 Back to Projects
The City of Melville is a large local government area bordering on the Swan River, with a vibrant community, rich heritage and an abundance of beautiful WA public open spaces. This project includes a community park in Leeming, bustling local shops in Willagee and Point Walter Reserve which is a popular water recreation and family picnic spot.
HOW WE HELPED
The City of Melville had three separate locations they identified were in need of toilet amenities to enhance the amenity of the public open spaces. Modus worked with the City to create a cost effective solution for convenient toilet buildings, helping them achieve their goal was to create high quality, easy maintenance and vandal resistant amenities. The building internals were customised to include large tiled walls and a commercial vinyl flooring.
On the outside, the City commissioned renowned Perth artist, Melski McVee, to create the eye-catching graphics that make a vibrant design statement in the open spaces they are located.
---
THE MODUS SOLUTION
(x3) Yarra 1 Toilet Building including:
1 x Ambulant Toilet Cubicle
Folding Baby Change Table
Concealed Cisterns
Service area
Stainless Steel Basin with time flow taps
Stainless Steel Ambulant Handrails 
Solar Lighting 
Magnetic Toilet Locks
---
HAVE A PROJECT TO DO?
We make it easy for you to deliver robust, functional and aesthetic toilet amenities for your community. To save time, budget and stress on delivering the public toilet infrastructure, get in touch with us.
Call. 1300 945 930
Email. info@modusaustralia.com.au
---