Popular waterpark ablution block for City of Kwinana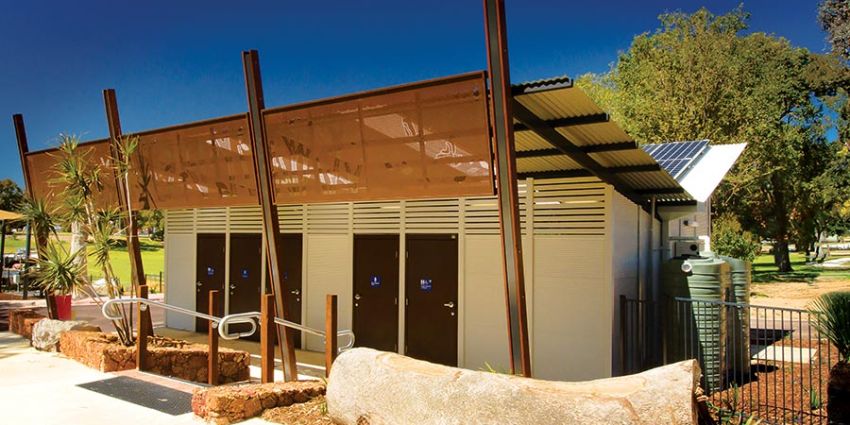 Back to Projects
Modus Australia's modular ablution block supply's kid's water park at Kwinana Adventure Park with essential public restroom facilities.
Prefab toilet building with timber columns and custom laser cut feature panels successfully integrate into Kwinana Adventure Park's nature landscape design.
Kwinana Adventure Park design successfully blends together a kid's water park play area with a flying fox, nature play area, trampoline sheltered BBQ areas and a restroom facility. The popular destination park has quickly become the place to celebrate occasions with family and friends of all ages. Grassed areas are shaded by over 500 existing trees and winding pathways promote the discovery of various interactive activity zones.
Ablution block provides essential fully inclusive access to a restroom facility for the entire community.
Parks and Leisure Australia highlights how Kwinana Adventure play space was designed to be fully inclusive of age, culture and physical ability. The City of Kwinana ensured that the public ablution block provided services that were also fully inclusive of age, culture and physical ability.
The City of Kwinana council worked together with Josh Burns and Associates and Modus Australia to adapt a modular ablution block floor plan to include Changing Places fitout. Although the floor space is smaller than Changing Places guidelines the cubicle includes an automated adult change table, shower with bench, AS1428 compliant toilet pan with grab rails and knee operated basin. The secure cubicle is accessible with a MLAK key and provides essential access to a clean facility for carers and those living with a severe disability.
Customised ablution block tailored design aesthetics, sustainable features and functional factors for Kwinana Adventure Park.
Modus Australia worked to adapt the Whitehaven Multi Ablution Block to balance budget, external aesthetics and functional factors in consultation with Josh Byrne & Associates. Aesthetic elements such as the custom laser cut panels and timber columns aid to provide the nature theme that helps to integrate the Ablution Block successfully to the environment. Functional elements outside of standard cubicles or a changing place cubicle is the water park pumping station that is located in the restrooms service area. The service area provides access to the hidden toilet cisterns and water pumps to control the sanitation standard that is delivered to the kid's water playground.
Kwinana Adventure Playground's Whitehaven ablution block included:
Two Unisex AS1428 compliant restrooms with a baby change table and shower

Female Toilet Cubicle

Female Ambulant Toilet Cubicle

Male Ambulant Toilet Cubicle

Parent Room, with adult change table, shower and AS1428 complaint toilet pan with grab rails

Timber feature columns

Laser cut panels

External stainless steel showers

Service Area

Water Tank

Modus Australia provided fixtures, fittings, structural steel and prefab kit-from panels which ensured a straightforward installation of every component.

---