Tamworth Skatepark | Custom Yarra 4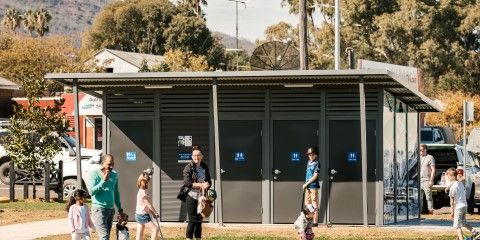 Back to Projects
Tamworth Skate Park is an exciting new space for the youth of the city and the community located at the Viaduct Park in the heart of Tamworth. It could be even one of the best skate parks in Australia, with a $700,000 contribution from council and $1 million grant from the state government, the park is buzzing with energy and able to hold local and state competitions.
HOW WE HELPED
Tamworth Regional Council needed a modern, robust toilet building for their new skate park, and tie in with the skate activities theme. We proposed a number of building options and ultimately the council chose the Yarra style and had the vibrant graphics fitted on site.
Modus delivered on the critical project deadline which was important to ensure the toilet was complete in time for the official opening. The opening was conducted by the local MP and the enjoyable day of family fun included competitions and activities for all ages.
Check out video here: 
THE MODUS SOLUTION
Yarra 4 Toilet Building including:
1 x Universal Access Toilet Cubicle (DDA)
1 x Unisex Ambulant Toilet Cubicle
2 x Unisex Toilet Cubicle
Stainless Steel Toilet Pans and Cisterns
Stainless Steel Basins with time flow taps
Folding Baby Change Table
Stainless Steel Handrails in ambulant and universal accessible cubicles
LED Batten Lights
HAVE A PROJECT TO DO?
We make it easy for you to deliver robust, functional and aesthetic toilet amenities for your community. To save time, budget and stress on delivering the public toilet infrastructure, get in touch with us.
Call. 1300 945 930
Email. info@modusaustralia.com.au
---