1000 Steps One Tree Hill Picnic Ground | Yarra 7 Custom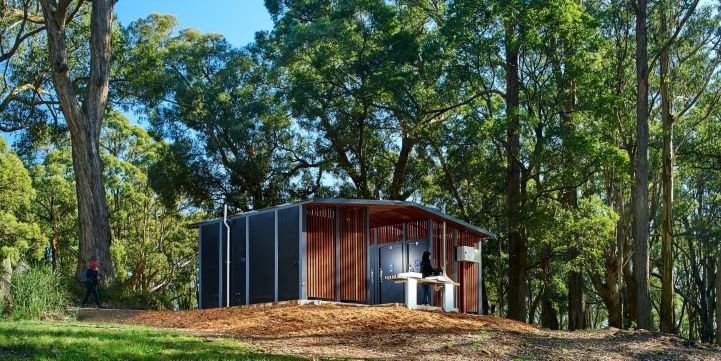 Back to Projects
1000 Steps walking track is a 3 kilometre steep terrain trek in the Dandenong Ranges. The trail follows a creek through a wet fern gully lined with plaques to honour the soldiers who fought and died on the Kokoda Trail during World War II. At the top you can take the track to One Tree Hill picnic grounds, from where you can experience the beautiful view while using the picnic tables and barbeques. New Modus toilet facilities are conveniently located at both the 1000 Steps carpark and the One Tree Hill picnic grounds.
HOW WE HELPED
The existing toilets at 1000 Steps and One Tree Hill Picnic Ground were in dire need of an upgrade due to years of heavy use. We helped create new toilet buildings with our Modular design which meant no lengthy site works and the project could be completed swiftly without disrupting the use of the park.
We created a design that was sensitive to the beauty of the natural bushland setting, using natural Jarrah battens for the fascia and roof lining and built in wall toilet cisterns to minimise building footprint. We also included a 100mm gap at the bottoms of the walls and decreased their overall height to minimise anti-social activity and let the building ventilate well.
THE MODUS SOLUTION
Yarra 7 Custom Toilet Building including:
2 x Unisex Toilet Cubicle
4 x Ambulant Toilet Cubicle
1 x Universal Access Toilet Cubicle (DDA)
Stainless Steel Toilet Pans and Cisterns
Large Stainless Steel Basin with time flow tap
Folding Baby Change Table
Stainless Steel Handrails in ambulant and universal accessible cubicles
LED Batten Lights
HAVE A PROJECT TO DO?
We make it easy for you to deliver robust, functional and aesthetic toilet amenities for your community. To save time, budget and stress on delivering the public toilet infrastructure, get in touch with us.
Call. 1300 945 930
Email. info@modusaustralia.com.au
---